Oven Roasted Pork Belly & Jalapeno Creamed Corn
Comfort food, Texas-Style. This sweet & spicy side perfectly compliments pork belly.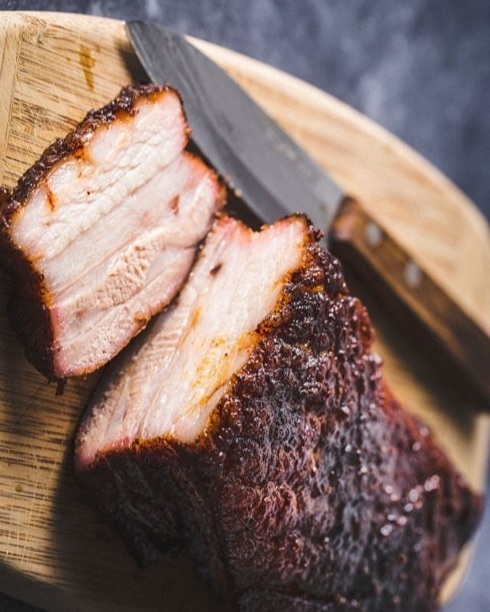 Minimal effort, maximum satisfaction.
PREP TIME: 4 hours 30 minutes SERVES: 6
Ingredients
2 tsp sea salt

1 tsp ground black pepper

1 tsp mild chili powder

1 tsp smoked paprika

1 tsp ground cumin

2 tbs peanut or canola oil

2 lbs Pork Belly, well scored

4 large corn cobs

2 onions, finely chopped

1 garlic clove, crushed

2 tbs butter

2/3 cup double cream

2-3 tbsp pickled jalapenos, drained & chopped

1 bunch cilantro, chopped
Procedure
1. Heat oven to 300°. Mix salt, spices and oil, rub all over pork belly. Place on rack in roasting pan. Pour one cup of water into the bottom of the pan, cover with foil. cook for 3 hours.
2. Increase oven temperature to 425°. Remove foil and cook for another 20-30 minutes or until crispy. Rest for at least 20 minutes before carving.
3. While pork belly is cooking, remove corn husks, cut on wide end, stand cob up on cut end and cut down ward to remove corn kernels. In a sauce pan, add onions, garlic, butter and corn. cook for 10 minutes over low heat.
4. Add cream and 1/2 cup of water to corn and bring to a gentle simmer. Cover and cook for 10 minutes. Use an immersion blender to puree about half of the corn, or remove half of the corn and puree in food processor and return to remaining unpureed corn. Add jalapenos, simmer gently without lid for another 6-7 minutes or until thick and creamy. Season to taste and fold in cilantro.
5. Slice pork with serrated knife, plate and serve.